The Best Play Kitchen Sets – Top 9 (2020 Reviews)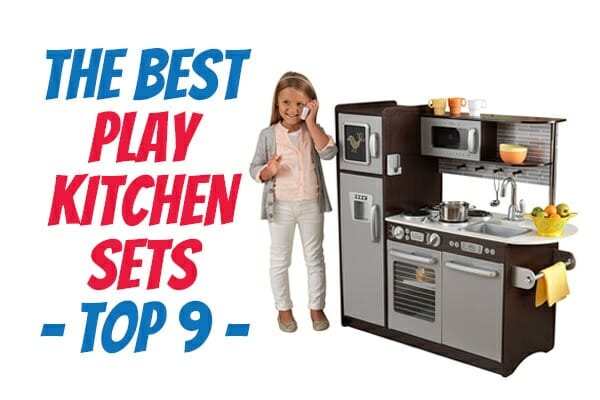 Life as a kid is all about pretending, and a large part of that pretending is acting that you're a grown up. Most kids do this because they look up to their parents and want to be just like they are. While kids can't yet manage the types of lives that their parents lead, they can do everything in their power to reenact those lives. This is why toy kitchens exist.
These play sets are, in essence, smaller, and much less functional versions of real kitchens. While they aren't good for freezing, preparing, and cooking food, they are good for a bit of fun.
Looking for a play set for your child? This guide is here to help you.
Melissa & Doug Wooden Chef's Pretend Play Toy Kitchen
While it's a bit expensive, this play kitchen from Melissa & Doug is as luxurious as they come.
Pros
Excellent construction quality
Has all the kitchen components you could ever need
Easy to assemble
The first play set we'll discuss is this one from Melissa & Doug. While it's a little on the expensive side, it's about as realistic as toy kitchens get.
It measures in at 43.25 inches x 39 inches x 15.5 inches, and is most appropriate for kids of 3 years and older. With a refrigerator, a sink, a microwave, and an oven, it provides more than enough options for fun.
Made out of high-quality plastic, this kitchen is built to last. You should be able to get quite a few years out of it. Every little chef will love this!
Naomi Home Kids Gourmet Kitchen Set
With the exception of its complex assembly process, this kitchen from Naomi Home is a terrific product.
Pros
Offers tons of components
Very affordable for its quality
Very sturdy after it's been put together
Cons
Very difficult to assemble
Another excellent playset is this one from Naomi Home. It's very similar to the Melissa & Doug kitchen reviewed above and is actually quite a bit cheaper.
However, while it's more affordable, it's also a great deal more difficult to assemble. In fact, it can take up to 5 hours for some buyers to assemble.
But if you can withstand the assembly process, this is a great product to buy. It offers a lot of value at a very affordable price.
KidKraft Uptown Espresso Kitchen
Possessing a moderate size and above average construction quality, this play kitchen from KidKraft has got every kitchen component your child could ever need.
Pros
Made out of tough plastic
Possesses all necessary kitchen components
Not too big, and not too small
Cons
Assembly can take a long time
Next up on our list of toy kitchen sets is this set from KidKraft. Available for a middle of the road price, it's not the largest of the play kitchens in the world, but has everything needed to get the job done.
This kitchen is stocked with an artificial refrigerator, oven, microwave, and dishwasher. It also includes a sink as well as a shiny and smooth countertop.
The pieces in the kitchen are made out of a tough plastic that will make it through at least a few years of use. Measuring in at 42.5 inches x 17 inches x 41 inches, it will take up only a moderate amount of space. It's a great learning toy for every little chef.
Step2 Heart Of The Home Kitchen Playset
Despite its lack of a realistic aesthetic, this play kitchen from Step2 is an extremely high-quality product which will get the job done.
Pros
Heavy-duty plastic construction
Has all of the necessary kitchen components
Big, but not the point of suffocation
Easy to assemble
Cons
Doesn't possess realistic aesthetics
The next toy kitchen on our list doesn't possess a realistic aesthetic, but it does provide above-average functionality. Measuring in at 48 inches tall x 45 inches wide x 12 inches deep, it's on the larger side compared to other playsets.
Made out of heavy-duty plastic, these play kitchens are designed to last over the long haul. It's got everything from a refrigerator, to an oven, to a microwave, and cupboards, and more; everything your child needs to have a fun time.
KidKraft Deluxe Big & Bright Kitchen
This uber-colorful kitchen from KidKraft offers solid functionality and good size.
Pros
Possesses a durable construction
Includes all the kitchen components you could ever need
Very colorful aesthetic
Large, but not too large
Cons
Can take a while to assemble
An extremely colorful, and semi-realistic play set is this one from KidKraft. It comes with a microwave, an oven, a refrigerator, a dishwasher, and everything else that your child could ever need in a kitchen.
It measures in at 48 inches x 20 inches x 7.5 inches, making it fairly tall and narrow compared to other sets on the market. Designed for kids between 2 and 3 years of age, it's made out of a tough wood which is built to last.
Our Generation Gourmet Kitchen
This miniature kitchen is a great choice for those children who want to play kitchen with dolls.
Pros
Comes with all of the necessary kitchen items
Comes with an 18-inch doll
Includes 69 total pieces including accessories
Cons
Not a child-sized kitchen
A little expensive for what it is
This next kitchen is designed to be played with via dolls. Note: this is not a child-sized kitchen; it measures in at only 21 inches x 21 inches x 7.5 inches.
However, it does still come with all of the kitchen components your child could ever need; a microwave, an oven, a dishwasher, and more. It also comes with an 18-inch tall doll, allowing for fun right out of the box. All little chefs will love these play kitchens!
Step2 LifeStyle Custom Kitchen Playset
If you're looking for a child-sized set on a budget, you might consider this one from Step2.
Pros
Solid construction quality
Affordably priced
Contains all necessary kitchen components
Cons
Not as large as some play kitchens
Doesn't possess a realistic look
This next kitchen playset doesn't possess a realistic look, but it does possess terrific functionality overall. Not to mention, it's available for a very reasonable price.
It measures in at 41.5 inches x 28 inches, giving it moderate size compared to other play kitchens. Fortunately, this makes it very easy to store away when not in use.
Coming with all necessary kitchen components, including a refrigerator, an oven, a microwave, and cupboards, it's got everything your child needs to immerse him or herself in fun.
Giantex Wood Kitchen Play Set For Kids
A decent budget kitchen play set, this product from Giantex is worth a purchase.
Oops! Looks like this toy is sold out.
Pros
Very durable construction
Affordably priced
Easy to clean
Cons
Doesn't come with a refrigerator
Aesthetic isn't realistic
An even less expensive play kitchen is this one from Giantex. Made purely out of wood, it measures in at 23.6 inches x 13 inches x 36.6 inches.
Unlike many play sets on our list, this one does not have a refrigerator. It does, however, possess an oven, a microwave, and a sink. In addition to these, it also possesses a large storage compartments.
In terms of durability, this is a superb set. It's built to last through years of use, and, due to its smooth exterior, can also be cleaned with ease.
Simplay3 Play Around Kitchen and Activity Table
This play set from Simplay3 is ideally used by small kids.
Pros
Durable construction
Good for small kids
Cons
On the smaller side
A little overpriced for what it is
Doesn't possess a realistic aesthetic
Rounding out our list of best play kitchen sets is this kitchen from Simplay3. Available for a middle-of-the-road price, it doesn't possess realistic looks, but is still a solid product overall.
Compared to others on our list, this set is a little small. It measures in at 31 inches x 19 inches x 38.5 inches, and is more appropriate for younger children.
Unfortunately, it doesn't come with a refrigerator. It's stocked with an oven, a sink, and a few cupboards. It also possesses an extendable countertop.
What Should You Consider When Buying a Play Kitchen Set?
While all of these play kitchens serve the same purpose, they are far from the same. Different sets contain different components, and include different levels of construction quality. When trying to choose a set for your child, there are a few different things to consider. They include its size, its construction quality, its functionality, and the number of pieces it contains.
Size
Sets come in all different sizes, with some reaching up to around 5 feet tall, and others standing only at about 3 feet tall. The same goes for their width; some are 3 feet wide while others are 6 feet wide. Make sure to consider the amount of space you have before making a purchase.
Construction
As with any product you purchase, you need to consider construction quality. Whereas some sets are made out of high-quality plastics and woods, others are made out of flimsy polymers which won't even last a year.
Functionality
Not only do you want your child's play kitchen set to have the appropriate components, you want those components to behave the way that they're designed to. Make sure that doors can open smoothly, and that different components can play together with ease.
Pieces
Some sets have refrigerators. Some have ovens. Some have microwaves. Some have all of these things. In general, the more pieces that a set has, the more fun it will be to play with. Buy at your own discretion.