Review: American Girl Camielle Doll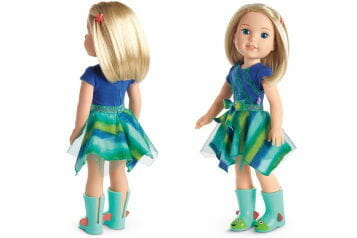 American Girl Dolls have become a popular choice of doll for young girls. My daughter is seven and adores her entire collection – she has six total.
From young toddlers to older school-aged children, all little girls enjoy the larger than average fashionable dolls, their various accessories, and their creative backstories. Like Camille, who belongs to the WellieWishers category of the American Girl line.
What are American Girl Dolls?
Many young girls have fallen in love with the American Girl dolls, and who can blame them? They always have adorable outfits, and you can usually find a matching outfit for your child. My daughter loves to match her dolls during tea parties and afternoon walks to the park.
These dolls are made of durable plastic, which I like since my daughter leaves her babies in the rain as well as putting them in the tub. Water won't damage an American Girl Doll.
The thick plastic is a bit heavy and because they're so big, it can be challenging for younger children to carry around unassisted. I know I've been stuck carrying my daughter's doll a ton of times. The baby stroller she got for Christmas was the best investment I've ever made.
American Girl Features
You can find a lot of different accessories to go with these dolls, such as beds, strollers, and bags. There are even dollhouses and activity sets. These dolls are over a foot tall and can stand up without being supported.
They often come with their storybooks, although these can be purchased separately as well. My daughter has every one of them – books, not dolls. That would cost me a fortune! These dolls are more expensive than other products, but the quality makes the cost worthwhile.
My daughter's American Girl dolls have lasted for multiple years so far, and they're still in excellent condition, despite being dragged through mud and fields. However, they are not puppy-proof. She does have one doll that's missing a foot and our dog mistook it for a chew toy.
American Girl Doll – Camielle
Each American Girl doll is different and comes with a name. This particular model is called Camille. She has shoulder-length straight blond hair, two buck teeth, large blue eyes, and a freckle on her left cheek. Her hair can be brushed and styled. She also has a starfish barrette in her hair and a blue and green ribbon.
Her outfit is a dress with a dark blue top with a glittery mesh ruffle and a tye-dye skirt with a handkerchief hem, glitter mesh top layer, and a matching tye-dye bow around her waist. She's wearing adorable rain boots with fish fins on the sides, and cute red fish faces on the toes. Underneath, she has on a pair of pink panties.
American Girl Dolls stand 14 inches tall, which is a lot taller than most dolls. She weighs 1.48 pounds, so she's light enough to tote around for most school-aged children. Her head turns side to side, and her arms can move up and down. Her legs can be twisted so that she's either standing or sitting. However, she is not flexible enough to put into different positions.
WellieWishers Series
Camille is part of the WellieWishers collection, which is a group of five girls who have the same goal – to be a good friend. The entire doll is made of hard, durable plastic, which does make her able to withstand water without damage. However, it can make it harder to cuddle comfortably.
In addition to Camille, you can purchase her other four friends to complete the WellieWishers:
Willa
Kendall
Ashlyn
Emerson
The WellieWishers dolls are all garden-themed, including the accessories and clothing. Each baby in the collection comes in a pair of rubber rain boots and fashionable clothing. You can also use other American Girl outfits on these dolls if your child wants to create their look.
However, these dolls are two and a half inches shorter than traditional American Girl dolls, so not all outfits and accessories might be interchangeable. Most of these doll dresses can also be found in children's sizes so your child and her doll can match. I find the cost of the extra outfits and accessories overpriced, but plenty of people love them.
Why We Love American Girl Camielle
The WellWishers American Girl Collection has received multiple awards, including the Best Toy in 2016 by Parenting magazine and the 2016 Oppenheim Toy Portfolio Gold Award. Although on the higher end on cost, these dolls have become a customer favorite.
My daughter, who is six, adores this doll and the storyline, which encourages her to share and be a good friend. I rate this product 4 out of 5 stars and recommend to anyone with girls aged 5 to 7 who loves to play with baby dolls. Get Camille today and watch your child's imagination run wild.